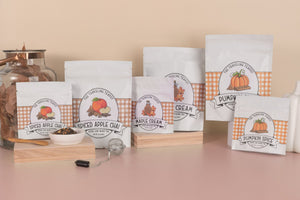 Fall Tea Bundle
Regular price
$15.00
$0.00
Unit price
per
Introducing our Fall Tea Bundle - a delightful trio of aromatic and cozy teas that capture the essence of autumn in every sip. Embrace the changing seasons and indulge in the warmth and flavors of fall with this carefully curated selection.
Pumpkin Spice Black Tea: This inviting blend is a symphony of autumnal spices and rich, robust black tea. Dive into the comforting embrace of pumpkin, cinnamon, cloves, and nutmeg, beautifully harmonized with the bold, brisk notes of black tea. It's like a slice of homemade pumpkin pie in a teacup, perfect for sipping by the fire or on a crisp, cool morning.

Maple Cream Black Tea: Imagine the golden hues of maple leaves and the creamy sweetness of Vermont's finest syrup in your teacup. This exquisite black tea boasts a smooth and velvety flavor profile with a delicate hint of maple, imparting a comforting and luscious quality that's sure to warm your heart. Savor this tea with a dash of cream for an extra layer of indulgence.

Spiced Apple Chai Black Tea: As the leaves fall and the air turns crisper, our Spiced Apple Chai Black Tea will become your new favorite fall companion. A captivating blend of bold black tea, warm chai spices, and the crisp, juicy essence of ripe apples, it's a delightful balance of sweet and spiced that will invigorate your senses and keep you cozy on cool autumn days.
Our Fall Tea Bundle is not just a collection of teas; it's an invitation to experience the enchantment of fall with every brew. Each tea is carefully crafted to capture the quintessential flavors and aromas of the season. This bundle makes a perfect gift for yourself or a loved one and is ideal for those who appreciate the magic of autumn.
Order your Fall Tea Bundle today and relish the season's splendor one cup at a time. It's the perfect way to cozy up, enjoy the changing leaves, and welcome fall with open arms.
---
Share this Product
---